Transportation


BC Ferries

Kona Winds Ferry - (BC Ferries)

Gibsons Harbour Ferry
Fall to spring operating as a water taxi service
Call Don anytime 604 886-4910

Mercury Launch & Tug - (Scheduled Water Taxi)

Gambier Water Taxi and Barge

Hanson Marine (Water Taxi)

26 March 2006
SCRD PORTS STUDY

Subject:
Fw: SCRD Ports Study
From:
"Kim Benson" <kimb_keats@telus.net>
Date:
Sun, March 26, 2006 2:32 pm
To:
"Kim Benson" <kbenson@islandstrust.bc.ca>
Cc:
"Joan Pedersen" <joan_pedersen@sunshine.net>
"Jean & John Low" <jandjlow@telus.net>
"Felicity Adams" <fadams@islandstrust.bc.ca>
"Chuck Steemers" <Chuck.Steemers@scrd.bc.ca>
"*Joyce Clegg" <jclegg@islandstrust.bc.ca>
"*Rose Willow" <rwillow@islandstrust.bc.ca>
Priority:
Normal
Dear Keats Contacts,

Please see the forwarded email below.

As you may recall, in 2000 (after 6 years of tough negotiations and a public
referendum), the Sunshine Coast Regional District (SCRD) took over ownership
and operation of 6 Transport Canada "Government Wharves" (or "Ports") and one
DFO Wharf within the SCRD (and Gambier Island Local Trust Area). This included
the public wharves on Keats Island: Keats Landing and Eastbourne. 

The other Ports are: Gambier Harbour, West Bay, Port Graves (Camp Artaban), &
Halkett Bay (Camp Fircom) on Gambier; Vaucroft on North Thormanby; Halfmoon Bay
and Hopkins Landing on the SCRD mainland.  

It has recently come to my attention that the SCRD has appointed a "Ports 
Advisory Committee" (PAC), which includes SCRD appointed "representatives" for 
each of the "Ports". The appointed members of the SCRD PAC for Keats are: 


John Low (Eastbourne), and Joan Pedersen (Keats Landing). 



The SCRD is currently undertaking a review and "Ports Strategic Business Plan"
and is asking the SCRD PAC to provide input and recommendations to the SCRD on
the future operation, management, use, and funding of all the Public Wharves in
the SCRD (including Keats Landing and Eastbourne).

As a locally elected Islands Trustee for the planning area that includes Keats
Island, I encourage all stakeholders with an interest in the future of Keats 
Public Wharves to contact Chuck Steemers at the SCRD, as well as the Keats
appointed members of the SCRD PAC with their comments and concerns. Please 
contact Chuck Steemers to obtain more information about the SCRD "Ports Strategic
Business Plan" and process. 

I will be asking the Gambier Island Local Trust Committee to follow-up on this
issue with the Sunshine Coast Regional District Board under the terms of the
Islands Trust/SCRD Protocol Agreement to ensure that island-wide community 
consultation occurs as a part of the SCRD Ports Review. 



Please "cc" any of your communications with the SCRD and/or SCRD PAC to Islands




Trust Senior Planner Felicity Adams at: 

fadams@islandstrust.bc.ca

 , so that the




Gambier Island Local Trust Committee can also be aware of your concerns and issues.



Please pass on or share this information, as appropriate.
Thanks for helping to keep islanders informed.

Kim Benson
Gambier Island Local Trustee
(Keats resident)
604-886-9868

> -----Original Message-----
> From: Chuck Steemers [mailto:Chuck.Steemers@scrd.bc.ca]
> Sent: March 23, 2006 12:42 PM
> To: Steve Lee; Jandjlow@telus.net; K_mctaggart@sunshine.net;
> Joan_pedersen@sunshine.net; Mainsite@campartaban.com; John Marian (Home
> email); gower_point@dccnet.com; Smoxon@primus.ca; r_hopkins@telus.nt;
> ference@shaw.ca
> Cc: Swatson@phn.com; karenduddy@campfircom.bc.ca; Andy_harper@telus.net
> Subject: Ports Strategic Business Plan
> 
> 
> Hi Everyone
>    This is just a heads up for the upcoming meeting on March 27th  -
> 10:30am to 3:30pm for getting the Strategic Business Plan underway for
> the SCRD Ports.  Meeting will be held in the Cedar Room at the Sunshine
> Coast Regional   District Offices located on 1975 Field Road, Sechelt.  We
> will be conducting a SWOT analysis of the Ports function ( Strengths,Weaknesses,
> Opportunities and Threats ).  Information and agenda will be handed out
> at the meeting.  Don Ference of Ference Weiker & Company will be the
> facilitator.
> Lunch will be supplied.
> If you have questions or are unable to make the meeting , please contact
> me.
> 
> 
> Regards
> 
> Chuck Steemers
> Engineering Technician
> Sunshine Coast Regional  District
> 1975 Field Road, Sechelt
> British Columbia  V0N 1V0
> PH. (604) 885-2261  Fax  885-7909
> 
> 
>
Dock Eastbourne Wharf & Keats Landing Wharf
Problems?
Chuck Steamers SCRD (604) 687-5753 or (604) 885-2261


(Ed Note: finish map of scheduled runs.)


02 February 2006
ICBC REVIEWING ISLAND INSURANCE
Public input concluding on 24 February 2006
Discuss this in the Keats Island Forum thread

From: Bredin, Judy [mailto:Judy.Bredin@icbc.com]
Sent: Friday, February 10, 2006 10:57 AM
Attention: Keats Island Property Owners
Subject: ICBC PUBLIC CONSULTATION LETTER


Dear Stakeholder:
ICBC invites your comments regarding the licensing of small utility vehicles on
isolated island roadways. Isolated islands are those that are not accessible to
vehicles by scheduled ferry service. Many isolated islands have roads which fall
under the category of highway and any motor vehicle operating on the highway must be
licensed.

Please submit your responses prior to February 24, 2006.

--------------------------------------------------------------------------------

BACKGROUND

Residents of isolated islands have unique transportation requirements related
primarily to road conditions and the lack of vehicle ferry access. Isolated island
roadways cover relatively short distances; they have low speed limits, very low
traffic volumes, and a predominance of gravel and dirt surfaces. There are typically
very few vehicles on these islands as residents need to barge vehicles to and from
the island.

Since 1997, the Government of British Columbia has provided restricted licensing for
golf carts used as general transportation on isolated islands. The unique
characteristics of golf carts (small wheel size, limited speed capability,
stability, side-by-side seating for driver and passenger, and low noise emissions)
met the transportation requirements of many isolated island residents.

ICBC has received requests from residents of isolated islands to expand the
provisions for golf carts to include small utility vehicles like examples shown
below. Utility vehicles share many of the characteristics of golf carts but have an
attached delivery body that is well suited to hauling goods to and from docks and
around an island.

The present regulation limits the use of golf carts to roadways with a posted speed
limit of 20 km/hr or less. Island residents have also raised a concern that few if
any islands actually have a posted speed limit of 20 km/hr. Most isolated islands
typically fall under a regulated, but not posted, speed limit of 50 km/hr.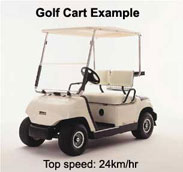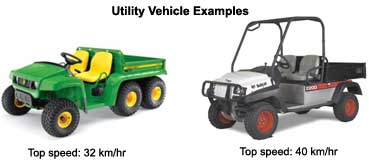 Small utility vehicles should not be confused with all-terrain vehicles (ATVs) like
the example shown. ATVs are designed for the rider to sit astride and do not have an
attached delivery body. As such, they are not well suited to carrying passengers or
hauling. They accelerate quickly, are designed to be ridden aggressively, and can
exceed speeds of 90 km/hr.


Because of their operating characteristics, the use of ATVs on roadways is limited
to farming or industrial purposes and regulated through a police-issued Operation
Permit.

A change to Motor Vehicle Act Regulations that would allow the use of small utility
vehicles on isolated islands roadways, and specify the conditions of their use,
would require a regulatory amendment.
[b]ICBC is inviting stakeholder comments on this
issue to help determine whether such a regulatory amendment should be proposed to
government and if so, what conditions of use should be recommended.[/b]


Judy.Bredin@icbc.com



Keats Island Vehicle Forum Discussion area is at:
http://the-hole.com/keats-island_ca/ki-forum/viewtopic.php?pid=96#p96


In December 2001, B.C. Ferries released the "Wright Report" which was prepared by Fred R. Wright, an independent financial consultant. In his report, he analyzed the governance structure, operating framework, historical financial performance and the current 15-year plan of B.C. Ferries. The report is designed to provide guidance to the Provincial government regarding the future operation and structure of B.C. Ferries.
Our major concern regarding this process is the viability of the Dogwood ferry that serves Gambier and Keats Islands. Particularly those who live on the islands on a full time basis are quite vulnerable to changes in service but all of us at some times and in some ways have needs that are tied to adequate and reliable ferry service. The viability of the minor ferry system is one of the major issues in this report and, coming from a business model, its recommendations tend to examine the specific financial viability of these services rather than looking at the financial functioning of the whole system.

In the following articles, the Islands Trust responds to the outlook and recommendations of this report. We strongly recommend that you study these responses and consider how we as a community or as individuals can respond to support Islands Trust in their efforts on our behalf to protect our ferry service.
ISLANDS TRUST RESPONSES:
1. Record of issues made regarding the Wright Report by Islands Trust personnel speaking with Hon. Judith Reid, Minister of Transportation.

2. A detailed examination by Islands Trust personnel of issues raised by the Wright Report.
3. A summary of the issues raised in Section 2.
These documents are stored in Adobe's portable document format (PDF). To view and print them, you will need Acrobat Reader. Click on the name of a form to download it. Some browsers will automatically open the file for you, but others will require you to save it on your computer first. To do this, right click on the link and select "save target as..." If you need to download Adobe Acrobat Reader, click the icon below.